Books and Media
Breakthrough Japanese
20 mini-Lessons for better conversation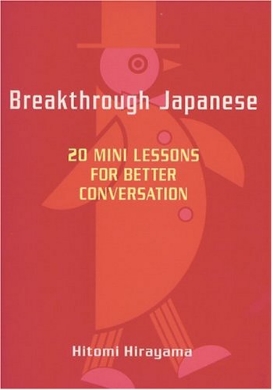 From the inside flap of the book
Message from KODANSHA INTERNATIONAL
Japanese is a notoriously difficult language. There may be no easy way to learn it, but there are ways that are easier than others.
Breakthrough Japanese is a lively, reader-friendly book that amplifies and reinforces the skills gained from more conventional textbooks. Designed to stimulate or rekindle a Learner's curiosity, it is packed with activities that make language learning fun. At the same time, learners at all levels, from beginning to advanced, will find useful information throughout its pages.
Author Hitomi Hirayama is the director of Japanese Lunch, a popular and very successful language school in Tokyo. Her teaching methods focus primarily on communication: she explains fundamental points of grammar, but with a succinctness and clarity that even advanced students will appreciate. She combines these with word games, practice conversations, proverb practice, and kanji games that make her book perfect for use in the classroom or, equally, for self-study.
Hirayama makes it easier for students to finally grasp the "big concepts" like the difference between wa and ga. She also has a unique way of introducing ideas that are applicable to any Japanese conversation, like what she calls the "Large-to-Small Rule" of sentence structure, and the way that word order in a sentence is completely up to the speaker. Her method instills confidence and helps readers take their Japanese skills to the next level.
New to the language? An old Japan-hand? Someone who has had some study, but then forgotten it all? Regardless, Breakthrough Japanese will make the language seem less formidable and more fun.
Breakthrough Japanese's Book Review

Pera Pera Penguin's
5minute Japanese Class
- Hitomi Hirayama -